The Nisqually Culture Program was created to organize and revitalize the Nisqually traditional values, beliefs, and practices. Our vision is to keep native people and culture alive and strong so that they can contribute a better and future life, and make the world around us a better place to live.

Some of the programs that we hope to develop in the next year is to establish culture facilities, culture center, canoe center, start native art classes with song and dance. Create a learning center for fishing. Involve our elders in fishermen and hunters to teach our traditional living to the youth. We hope to develop oral histories with our elders, plan construction of a longhouse and canoe landing. We hope to develop production of cultural education materials and have culture focus groups and planning.

The Nisqually Community is welcome to join us at our Culture meetings. We welcome your ideas and contributions to the Culture Program.




Downloadable Flyers (Require Adobe Reader, click here

to download it for free




Totem Honor: Click here to read the full story...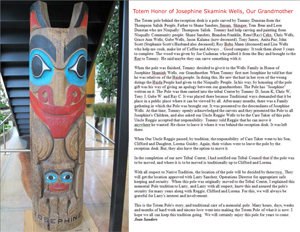 Back to Community Services

Back to Heritage

Back to Canoe Journeys